Wednesday, April 24th, 2013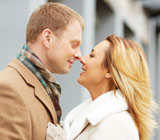 Some gentlemen prefer blonds while others go for brunettes; some women go for muscular physiques while others favor lankier builds... The attributes that attract one person to another may be as varied as human beings themselves, but a recent study by the online dating site Match.com has revealed some common must-haves that adult males and females of all ages typically look for in a date or a partner. Topping the list? Good teeth! Pearly whites even beat out hair, which ranked third for both sexes.
Match.com's third annual "Singles in America" survey polled nearly 5,500 unattached adults (never married, divorced, widowed or separated; not in a serious relationship) age 21 to 70-something regarding how they judge a potential date and what they deem to be the most and least essential attributes in a potential partner. Teeth came first — 58% for men and 71% for women! Hair garnered 51% among men and 53% among women.
Good dental hygiene — regular brushing and flossing at home using proper techniques, avoiding acidic and sugary foods that can promote bad oral bacteria, and visiting our office for periodic checkups — constitute the front line in maintaining a healthy smile. Yet even with diligent attention to the oral environment, some people may have certain concerns about their smile that go beyond hygiene such as tooth color or alignment, gaps or overlapping teeth, or excessive wear. Cosmetic dentistry has advanced to the point where there's a potential solution for virtually every concern. For example:
Professional whitening (bleaching) — This can remove most deep (intrinsic) stains and surface (extrinsic) ones that don't respond to normal brushing and professional cleanings.
Porcelain veneers and crowns — Thin ceramic veneers adhere to the front surface of a tooth and essentially replaces the tooth enamel. Crowns cap entire teeth and essentially replace the enamel covering all around. Both techniques are excellent for changing tooth color and shape, and helping fill gaps. Crowns are especially good for hiding extensive decay and trauma.
Orthodontics — These techniques can improve tooth alignment and bite. They include traditional braces as well as clear aligners, retainers that are hidden behind the teeth, and a number of other options as well.
You now know teeth are No. 1 and hair is No. 3: Are you wondering what attribute(s) ranked second among men and women in terms of "deal makers" or "deal breakers"?... It's grammar — 55% among men and 69% among women! Dentistry can't really help with grammar, but improving your smile could make you more comfortable and ready to smile and engage in conversation so you can demonstrate your grammar!
If you would like more information about cosmetic dentistry, please contact us today at 518-237-0019 to make an appointment for a consultation. You can also learn more about this topic by reading the Dear Doctor magazine article "Cosmetic Dentistry."